« MetalSkin® […], radically efficient » – Le Figaro Santé
MetalSkin®, a radically effective bacteria-killing French paint
A french start-up has patented a composite material formulated with copper that could be a true revolution in the control of bacterial contaminations.
In 2014, MetalSkin® already received an innovation award. Since then, the company has imposed a reflection on the standards for bactericidal surfaces. Afnor (the agency in charge of standards) has just rethought a system that is notably obsolete: surfaces declared anti-microbial, which are indispensable in hospitals, proved to be ineffective in real situations. Stéphane Pénari, creator of MetalSkin®, has not only alerted to this issue, but also provided a solution: a specific copper-based paint known for its long-lasting bactericidal properties (copper ions puncture the membrane of the bacteria and kill it).
"Nosocomial infections represent more than 4200 deaths per year in hospitals," explains Stéphane Pénari. They spend fortunes to avoid them. MetalSkin® slightly increases installation costs (between 10 and 20%) but for an efficiency of 99.9%".
From door handles to faucets to keyboards computer or ramps, MetalSkin®.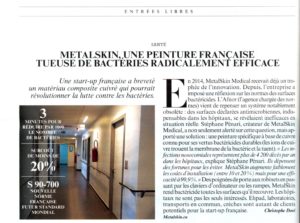 To read the PDF version of this article (in French), click here !